Our Business Development Manager, Chen Yu from NCC Education had the opportunity to attend the reopened CEE 2022 Beijing Stop hosted by China Education Association for International Exchange ("CEAIE") on February 17, 2023 at Beijing International Convention Center.
CEE 2022 Beijing Stop reopened on February 17, 2023. Hosted by CEAIE, CEE has grown to be the hub of global education excellence for over 20 years.
CEE 2022 Beijing Stop, the first POST-COVID international education expo has attracted nearly 200 universities and colleges from more than 20 countries and regions to participate in the grand event.
Chen Yu, NCC Education's Business Development Manager, had a constructive session with a representative from Keele University.
Chen Yu, NCC Education's Business Development Manager, had intensive visiting schedule at the expo among the booths to take the opportunity to have sessions with representatives from University of Reading, Keele University, Manchester Metropolitan University, and Massey University.
Chen Yu said, "CEE 2022 Beijing Stop is the latest sign of the recovery in China's study aboard market.It is a great opportunity to have the chance to meet as more as possible universities with numerous certainties about the prospects of future co-operation in university progression routes for L3IFDHES course and PMB course. We look forward to developing deeper-ties with these universities in various levels to serve our clients with competitive products and service."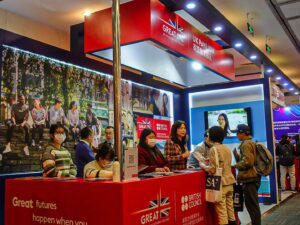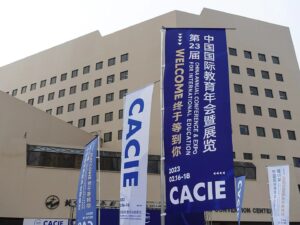 NCC Education's EA office in Beijing has been dedicated to provide qualified service to our partners in China, please visit our official China website www.nccedu.cn to learn more information about accreditation, university progression and qualifications or please feel free to send us your inquiry at china@nccedu.com.