NCC Education and Stephen Business School collaborated to showcase their educational programmes at the Mauritius International University and Career Expo 2023, offering prospective students and their parents the opportunity to learn more about the courses offered on the Quatre Bornes campus in Mauritius.
Marcelle, NCC Education's Business Development Manager, had an amazing time at the fair meeting with students and parents and sharing information about the programmes. The team was excited to empower students in the region through the partnership.
Reflecting on the event, Marcelle said, "It was wonderful to meet Sita Saminaden, CEO of Stephen Business School, Mr. Seebaluck, Head of Academics, and the rest of the team at the expo. The hall was filled with young aspirant students making career choices, and it was exciting to see the interest among young women in pursuing STEM subjects."
By participating in the expo, NCC Education and Stephen Business School were able to expand their reach and support more students in pursuing their educational and career goals.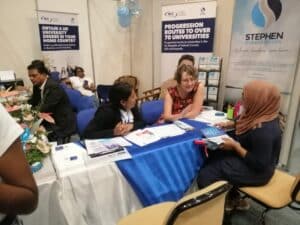 Find out more about Stephen Business School and the Qualifications they offer
Visit their website:https://www.stephenbs.ac.mu/