NCC Education are delighted to announce a new progression route to the University of East London, UK.

First established as a technical institute back in 1892, the University of East London is a modern, careers-led university whose mission is to prepare students for the jobs of the future.
As one of the few London universities to offer on-campus accommodation, students can access convenient and secure halls of residence on the stunning Docklands waterfront, close to the university's vibrant campus locations of Stratford and Docklands.
Home to 18,000 students of 134 different nationalities, the university is divided into six world-class teaching schools.
Neighbouring the business districts of Canary Wharf and the City, the Royal Docks School of Business and Law provides students with close industry links to innovative start-ups and global corporations.
The School of Architecture, Computing, and Engineering is equally well-connected, with industry links to London City and Gatwick airports, Amazon, and Microsoft as well as accreditation from over 20 professional institutions.
The University of East London is placed in the world's top 101-200 universities (Times Higher Education Impact Rankings 2020) and top 250 young universities (Times Higher Education Young University Rankings 2020).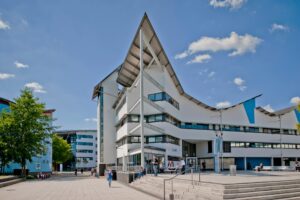 Upon completing the Level 3 International Foundation Diploma for Higher Education Studies (L3IFDHES) students can apply to a wide range of undergraduate programmes at the University of East London, including degrees in Business, Accounting, Engineering, Computing, Sport, Journalism, and Physiotherapy.
NCC Education Head of Partnerships, Dermot Finnigan, says: "Recognition of L3IFDHES from the University of East London is excellent news for students wishing to study in the heart of the UK's capital city".
The University of London Pro-Vice-Chancellor (Careers and Enterprise), Dr Paul Marshall, said, "We're pleased to be in partnership with NCC Education offering students a route to a range of degree courses.
"At the University of East London, our goal is not only to provide knowledge, but also a range of soft skills, competencies and support that prepares our graduates for the ever-evolving challenges of an Industry 4.0 future."
*Offers will be made on a case by case basis, subject to minimum entry requirements.
For more information, please contact:
Follow University of East London: