Established in 1959 and granted its Royal Charter in 1961, the University of Sussex is a leading UK university with ten prestigious Schools of Studies.
Located in the popular seaside city of Brighton and surrounded by the South Downs National Park, an area of outstanding natural beauty, the University of Sussex's self-contained Falmer campus offers students a stunning home from home.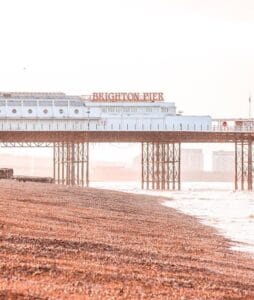 Amongst the outstanding on-campus facilities, are the University of Sussex Library, opened by Her Majesty Queen Elizabeth II in 1964, and the innovative interdisciplinary arts hub, Attenborough Centre for the Creative Arts.
Internationally renowned, the University of Sussex ranks in the Top 200 universities in the world and Top 20 universities in the UK (THE World University Rankings 2021).
Furthermore, the University holds a Top 10 position in subject areas including Business and Economics, Psychology and Communication and Media Studies (THE World University Rankings by Subject 2021), making the University of Sussex an excellent choice for high-achieving NCC Education graduates.
Upon completing the NCC Education Level 3 International Foundation Diploma for Higher Education Studies (L3IFDHES), students are welcome to apply to undergraduate programmes across a wide range of subject areas. Students completing NCC Education's Pre-Master's in Business (PMB) can also be considered for entry to various taught postgraduate degrees at the prestigious EQUIS-accredited University of Sussex Business School.
NCC Education Head of Partnerships Dermot Finnigan, says: "I am delighted to hear that the University of Sussex now welcomes applications from L3IFDHES and PMB students. This is fantastic news for NCC Education's global network of partner centres."
"We welcome NCC Education students to apply to the University of Sussex. There are many reasons to choose Sussex, for example, it is the only university in the UK located next to a national park and one of the most international universities in the world with over 150 nationalities presented at our student communities." Janie Kingsley, Deputy Head of International Office, University Sussex.
*Offers will be made on a case-by-case basis, subject to minimum entry requirements.
For more information, please contact:
Tel: +44 (0)1273 606755
Email: study@sussex.ac.uk
Website: www.sussex.ac.uk
Follow University of Sussex:
Facebook: Uni of Sussex
Twitter: @SussexUni
Instagram: @SussexUni
YouTube: University of Sussex
LinkedIn: University of Sussex