NCC Education are delighted to welcome International Foundation Centre Cambodia (IFCC) to its Accredited Partner Centre Network.
Based in Phnom Penh, IFCC will now deliver the NCC Education Level 3 International Foundation Diploma for Higher Education Studies (L3IFDHES) programme.
Upon completing the L3IFDHES programme at IFCC, learners can progress to UK and international university courses.
IFCC is located within Paragon International University. The centre benefits from sharing resources and teaching staff with the university. Students at IFCC are granted access to the modern library, labs and social facilities of the university.
The centre employs an experienced international team of qualified teachers who are dedicated to supporting learners on their educational journeys.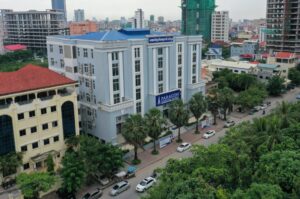 NCC Education Sales Director Sheetal Choraria says: "We are thrilled to welcome IFCC to our Accredited Partner Centre network.
"The centre's first-class infrastructure, modern teaching faculty and resources are among the gold standards of delivery by our Accredited Partner Centres.
"L3IFDHES will equip students with the English language and academic skills required for undergraduate degree entry.
"I look forward to IFCC offering students an opportunity to progress to world-class universities around the world."
IFCC Centre Coordinator Timothy Costelloe comments: "We offer viable pathways to international education for Cambodian students, in parallel with Paragon International University's growing reputation as a leading private education institution in Cambodia.
"Working with NCC Education is a positive step for us to prepare students for direct overseas study entry.
"We look forward to establishing elite education pathways from Cambodia to overseas and increasing access opportunities for students to high-quality international education."
For more information, please contact: