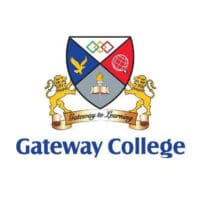 185, Koswatta Road,
Off Royal Gardens,
Rajagiriya
Colombo
Sri Lanka
Gateway College, Sri Lanka
Gateway opens its doors to children at 2 ½ years, providing an opportunity for them to develop from Play Group up to ALs and beyondin a purpose built campus environment equipped with state-of-the-art facilities. The children grow through a holistic all-round learning ethos supported by a team of qualified and well experienced teachers and educators.
In academics, Gateway College continues to achieve unparalleled success with many students securing High Achiever Awards and World prizes every year, at the Edexcel Awards ceremonies, every year. Gateway has also excelled in sports, drama, co-curricular activities and community service winning many accolades for outstanding achievements.
Every child has the opportunity to receive a truly world class education in a disciplined, spiritual and morally uplifting school environment upholding Sri Lankan values and the diversity of our culture. This makes Gateway College a unique learning experience.