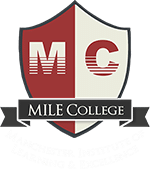 82 King Street
Manchester, M2 4WQ
+44 161 935 8019, +44 745 917 3962
MILE College is an academic institute to provide Foundation Level, Undergraduate (equivalent) and Postgraduate (equivalent) courses, and its overall objective is to provide supporting and encouraging environment for students to achieve high academic Goals. The College provides different level of education that develops the students academically and advances their interpersonal skills, and so prepares them to play full and effective roles in society.
MILE College is an established private higher education institute within the Higher education sector and act as a feeder institution to universities and intend to provide transition opportunities to higher education for students who were unable to continue their studies.
MILE College will provide an inspirational environment that promotes personal development along with academic learning to assist learners achieve their very best in life and work. We develop our teaching and learning model based on stimulating growth mind-set philosophy, where every learner is challenged and encouraged to recognise and grow their potential. Our learner-centered curriculum will offer different level degree programmes in Business, IT, Computing, and Health & Social care programs.
Mission
At MILE College, we strive to create an environment of learning and growth through our comprehensive curriculum, knowledgeable faculty, and state-of-the-art facilities.
Qualifications offered
Level 3 International Foundation Diploma for Higher Education Studies (L3IFDHES)
The NCC Education Level 3 International Foundation Diploma for Higher Education Studies (L3IFDHES) is an Ofqual regulated qualification. It is a one-year pre-university qualification developed by UK academics to help you progress successfully to undergraduate study. 

< Back to search results